QRChat allows you to join chatrooms as quickly as scanning a QR code. Write Anonymous and Encrypted Messages. Join the QRChat Beta Discussion Room!
How QRChat works:
Create an anonymous account when opening the app.
You can create a new room (click on the floating action button) or join an existing one
Share your unique QR code with whomever you want to join your chatroom.
The other one(s) just has/have to scan the QR code from your room (FAB -> then scan) and can then join your room. Then you can chat with each other. Bonus: All messages anyone sends will first be symmetrically encrypted on your device before it is sent to the server. Only persons in a given room are able to decrypt the message.Every chatroom can be left or deleted (if admin) at any time.
There is also the possibility to attach a pdf to your room, which everyone in the room can download.
Also, you can add a header line to your chat, in order to post some important information.
Join the QRChat Beta Discussion Room Now and for Free!
If you are interested, try it out, it is free.
You can download it on the Google Play Store:
https://play.google.com/store/apps/details?id=burgseitenapps.qrc
Any feedback is appreciated. You are also invited to join the QRChat Beta Discussion Room. Just scan the following code with the app: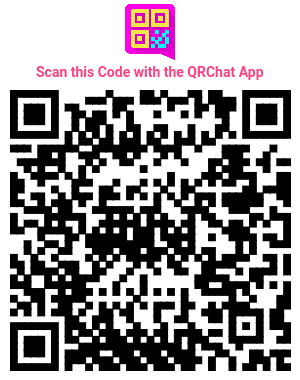 I hope to hear from you there (Or here)